New research from app quality researcher Applause shows that consumers are more dissatisfied with dating apps than any other type.
The research looked at 97 apps, with a minimum of 2,000 app store reviews, which received a quality score based on consumer sentiment on a 0-100 point scale (100 being the best score). Overall, the dating apps lagged all other apps in quality by 23 points.
Just 11 dating apps earned quality scores of 50 or more with more than 10,000 app store reviews, including OKCupid and GROWLr by Initech. Tinder dropped by over 10 points in the last year, since Applause's first report on the category last February.
Consumers have high expectations when it comes to their dating app's style, privacy and security. The report concludes that, "Brands looking to improve their app quality in the eyes of users would be wise to invest in usability and security audits to prioritize product improvements". The full version is available on the Applause website.
As if that wasn't bad enough news for the industry, software management specialist Flexera has issued a report which shows that many popular dating apps could present a security risk for enterprises when installed on BYOD devices.
Of the 25 popular Apple iOS dating apps tested 88 percent, including Grindr, OKCupid and Tinder, are capable of accessing a device's location services. 76 percent support ad networks and 60 percent are capable of accessing the device's social networking apps as well as SMS/Texting functions.
36 percent, including Grindr, Lovestruck and OKCupid, are capable of accessing the device's calendar, and 24 percent, including Blendr, Hinge and Tinder, are capable of accessing the address book.
The full report is available on the Flexera website and there's an infographic summary of the findings below.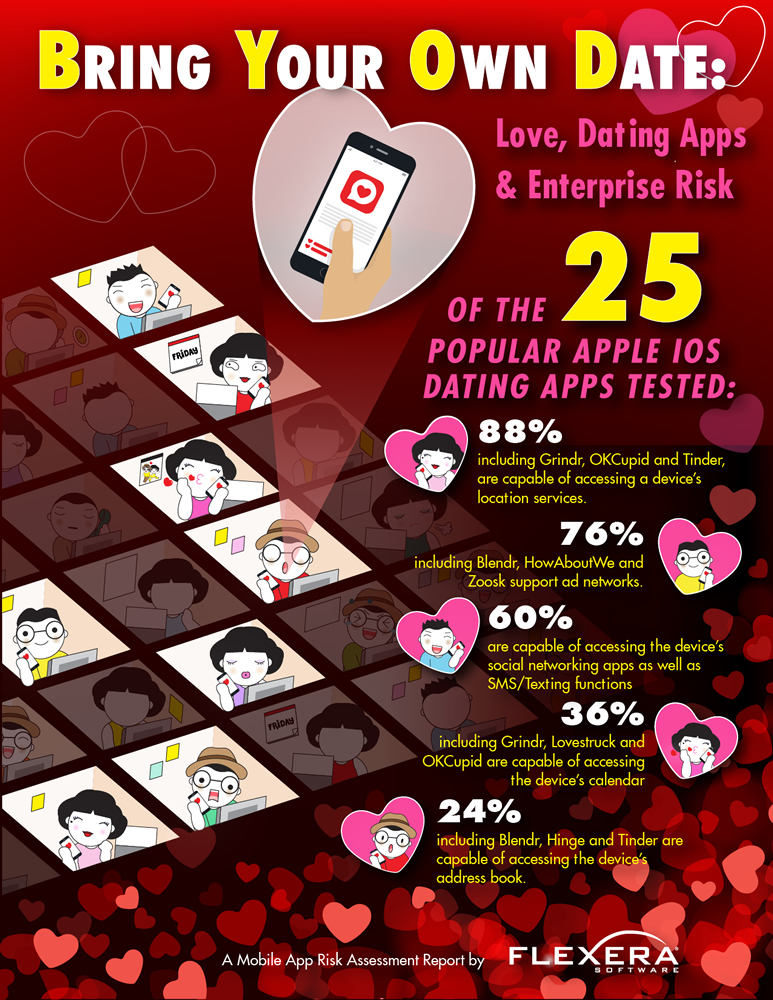 Photo Credit: JoeyBear/Shutterstock
Source: BetaNews